A Stay-Over venue & Retreat
Your destination awaits.
Welcome to
Strawberry Pines
Strawberry Pines, named for the brilliant pink hues seen through the pines at sunset, makes the perfect backdrop for any occasion. Once part of a working ranch, Strawberry Pines has been lovingly restored to a charming destination for corporate events and retreats.
Ideal for large gatherings, our onsite accommodations create a memorable, relaxed stay-over experience in Poteet, Texas, just 30 minutes south of San Antonio.
Choose your stay
Retreat,
Stay & Play
Create a memorable experience at Strawberry Pines during your corporate event, church retreat, or family reunion. With our stay-over packages, your guests can explore the grounds, fish on the dock, share meals in our fully restored 100-year-old barn, or play a game of pool in the Cabin. Our onsite lodging at the Rock House, Cabin, and Ranch House allow for large groups to enjoy both privacy and communal meeting spaces. You can also rent the Barn for your next fundraiser dinner and treat guests to live music and dancing.
3 Houses / 3 Nights + Barn
Friday 10:00 a.m. to Monday 10:00 a.m.
Exclusive use of the venue to include all three homes, the barn, all outdoor facilities, and access to fishing in the stocked catfish tank. Parking area away from the highway, and manicured lawns.
2 Houses / 2 Nights + Barn
Friday 10:00 a.m. to Sunday 4:00p.m.
Use of the Rock House and Cabin, outdoor facilities, barn, and access to fishing in the stocked catfish tank. Parking areas away from the highway, manicured lawns.
1 House / 1 Night + Barn
Saturday 10:00 a.m. to Sunday 4:00 p.m.
Use of the Rock House or Cabin, outdoor facilities, barn, and access to fishing in the stocked catfish tank. Parking areas away from the highway, manicured lawns.
Barn Only
Same-day 8:00 a.m. to 1:00 a.m.
Lawn and parking and will be available for one day events. Refundable cleaning deposit applies. Package starts at $1000. Note: Reservations for the Barn alone can be tentatively made for dates available but are not confirmed under a contract more than 4 months in advance of the scheduled date.
Corporate
meetings that
feel like a retreat.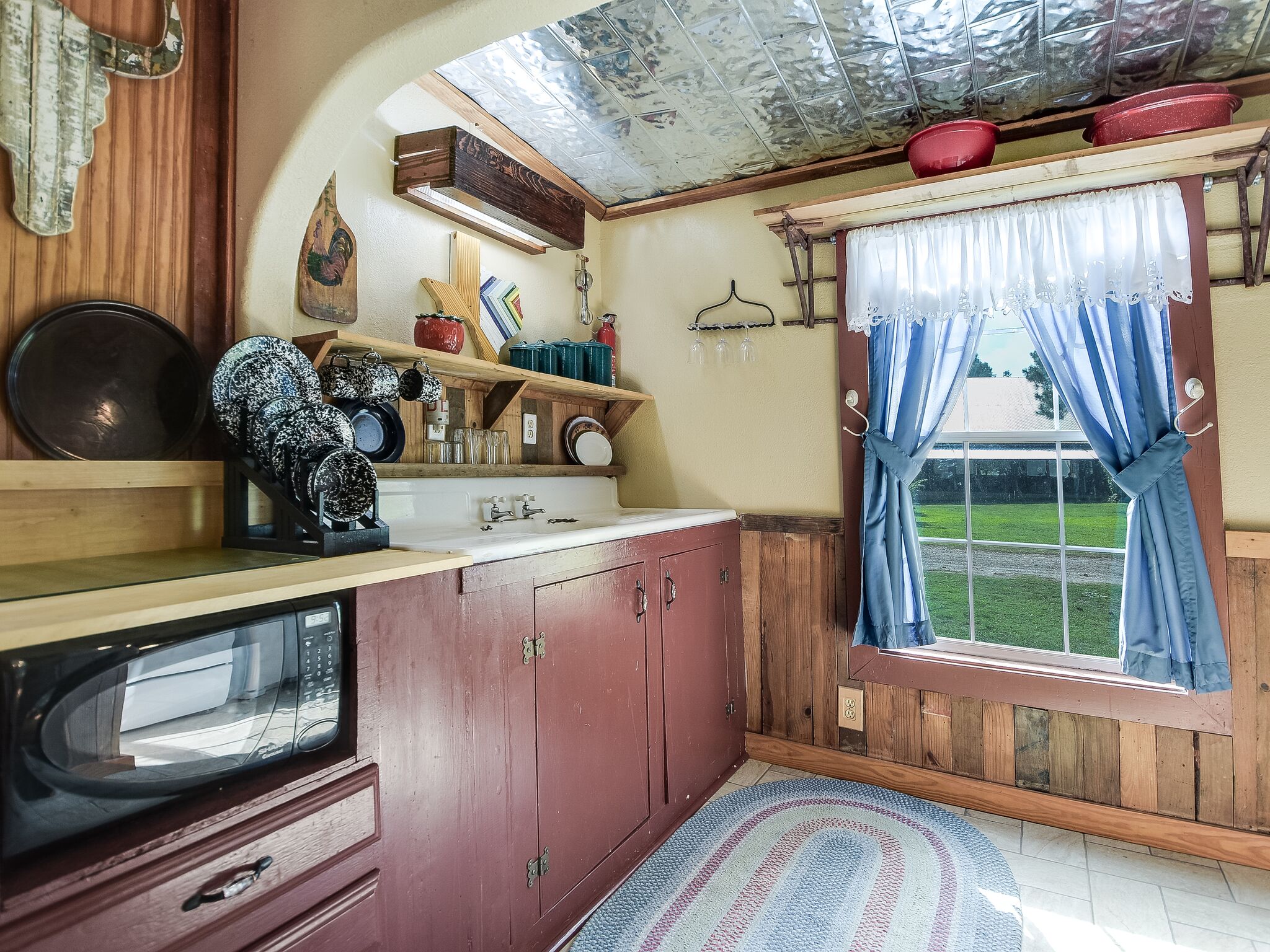 Accommodations
Three Unique Homes for Your Stay.
The Rock House
The Rock House has 2 bedrooms, 2 bathrooms, a sleeping porch, and patio with a fire pit. It also hosts a kitchen fully stocked with dishes, cookware and utensils. This house can sleep 2 to 7 people. The Rock House was furnished as a retreat with you in mind. Families or small groups will love sitting on the screened-in porch or roasting marshmallows in the outdoor fire pit.
The Cabin
The Cabin features 2 bedrooms, a spacious master bedroom and a bunkroom that sleeps up to five adults, 1 bathroom, a game room with a pool table, and a fully furnished kitchen. The cabin has a laid back rustic feel, perfect for the small groups or families. This house is all about down time and relaxation.
The Ranch House
The Ranch House is the largest of the 3 houses, located high on a hill under stately oak trees. It features 4 bedrooms, 4 bathrooms (2 of the bedrooms have on-suite baths). There is a formal dining room retrofitted and furnished to serve as a small conference room, perfect for meetings or formal gatherings. This house with its flexible sleeping options can sleep up to 16 people.
Events at
Strawberry
Pines
As a premier South Texas event venue, Strawberry Pines can host your next family reunion, church retreat, or corporate meetings.
Family Reunions
Challenge your grandkids to a game of checkers in the barn, enjoy the beautiful Texas sunset from the back porch of the Ranch House, make s'mores at the outdoor fire pit at the Rock House, or take the kids fishing on our dock. Make memories that will last at Strawberry Pines.
Church & Small Group Retreats
The wind rustling through the pine trees and our 100-year-old barn make the perfect backdrop to your next church or small group retreat. Guests will enjoy our comfortable and quaint lodging, while also experiencing a true country retreat like never before.
Corporate Events & Retreats
Your next strategic planning meeting, seminar, or team-building event is sure to be a success at Strawberry Pines. Guests can go fishing off the dock, meet in the conference room at the Ranch House, gather in the fully restored Barn, or enjoy the pool table in the Cabin. Strawberry Pines offers your guests an unforgettable experience.